Accommodations
All the suites at Secrets Maroma Beach Riviera Cancun feature captivating views of the crystal-clear Caribbean or the lush tropical gardens. Swim out suites offer a furnished private terrace with direct pool access. Each finely appointed suite provides a relaxing sanctuary with modern, elegant décor, luxurious linens and full Italian marble bathrooms. Room amenities include: Private, furnished balcony or terrace, 24-hour room service*, 24-hour concierge service, Mini-bar refreshed daily, Wi-Fi and a Hydro tub.

Elevate Your Stay with the Preferred Club
If you are ready to experience an even higher level of all-inclusive luxury, the Preferred Club is for you. Enjoy an upgraded suite, access to an exclusive lounge, special concierge service and other enhanced amenities.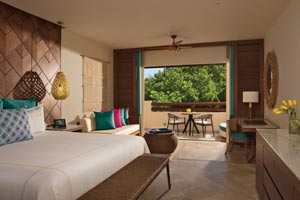 Junior Suite
Tropical View
One king-size or two double beds

624 ft2 / 58 m2
Spacious room with separate sitting area
Luxurious bath area with hot tub for two and separate shower
Private, furnished balcony or terrace
Maximum occupancy: 3 guests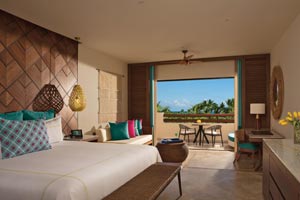 Junior Suite
Partial Ocean View
One king-size or two double beds

624 ft2 / 58 m2
Spacious room with separate sitting area
Luxurious bath area with hot tub for two and separate shower
Private, furnished balcony or terrace
Maximum occupancy: 3 guests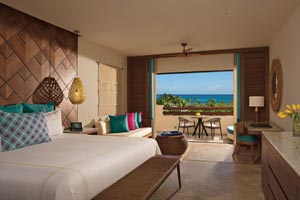 Junior Suite
Ocean View
One king-size or two double beds

624 ft2 / 58 m2
Spacious room with separate sitting area
Luxurious bath area with hot tub for two and separate shower
Private, furnished balcony or terrace
Maximum occupancy: 3 guests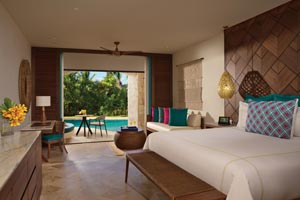 Junior Suite
Swim Out
One king-size

624 ft2 / 58 m2
Spacious room with separate sitting area
Luxurious bath area with hot tub for two and separate shower
Private, furnished terrace with direct swim out access
Maximum occupancy: 2 guests